The Dual - Refurbished
Regular price
$769.00
Sale price
$669.00
/
---
Ships in 2 - 3 Business Days
Low stock - 1 item left

Inventory on the way
Miles is now offering certified refurbished DUALS at a discounted price! 
The boards are just like new, they haven't even been ridden yet! 
Meet The DUAL

A Portable Carbon Fiber Electric Skateboard - With Interchangeable Deck Designs and HUB Motors
In Stock and Ready To Ship! While supplies last.
22 MPH, Up to 18 Mile Range. HUB Motors, 80mm Standard Wheels, and Carbon Fiber Deck You Can Count On.


The Dual is the most portable electric skateboard on the market.

Whisper quiet motors push this board up to 22mph.
Dual 350w Motors
Up to 22 mile Range
Miles Remote (LCD Display with Cruise Control and 3 Speed Modes)
Hobbywing ESC
Carbon Fiber Deck
Specs

Customize it to Fit Your Life!


The Mini Performance Electric Skateboard Information
What Makes Miles Special?
The Dual is powered by motors built right into the wheels. There are no belts to drag you down or break during a ride. You control stopping and going with a wireless remote. The carbon fiber deck is so thin that nobody will know there's a high-capacity battery and smart computer hidden inside!  All this makes Miles the most portable (and sexiest) performance electric skateboard out there!
Great design. Lightweight. Built to last. HUGE power and range.
Most importantly, our support team and rider community are ready to help with any questions you might have!
What's it Made Of?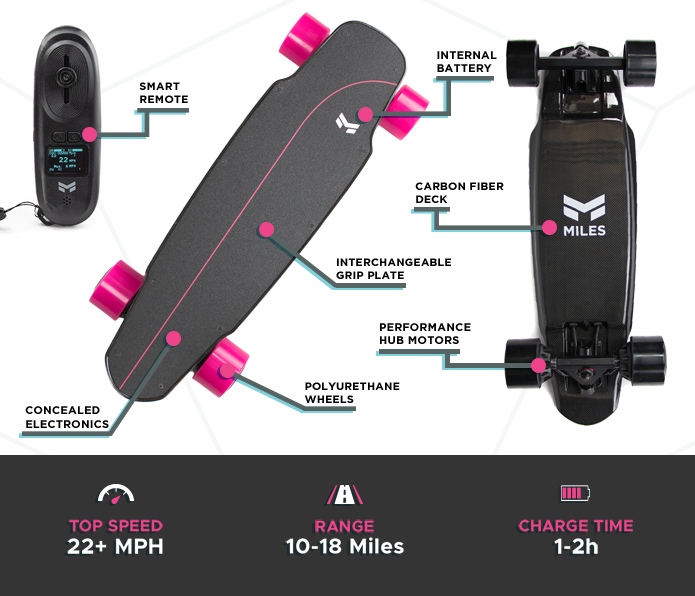 Big Features
(Small Price)
Featherweight
The Dual is almost impossibly light, at only 12.5 lbs, Miles has the best performance-to-weight ratio of any board out there! You don't need to let a bulky, heavy board slow you down anymore. The Dual is easy to carry and stow so you can take it with you wherever you go! 
Insane Speed
Don't let the size fool you, this Miles Board has powerful brushless motors right in the wheels. Accelerate to 22+ mph and feel the wind in your hair as you zoom past traffic.
Ride More, Charge Less
Cruise through campus, hit the gym, shred with your friends. Spend more time riding and less time charging. 
Crush Hills
No more walking up hills. Hit the throttle and fly up them instead. Climb grades up to 20% with enough speed to carve around just for fun. 
Beat It Up
Skating is about pushing your limits.  The Dual can take a beating and keep on cruising! If anything breaks, you can order a quick replacement from our shop. 
Built To Last
The deck is made out of 100% Carbon Fiber giving it unmatched strength and a look that's guaranteed to turn heads!! 
Get Wet
If you ride hard you'll encounter some puddles. The undercarriage is sealed and motors completely waterproof so you can ride through some puddles and cruise in light rain. 
Limitless Range
Go ahead, ride across the state! Just swap in another battery when you run out of juice on the go. 
Smart Remote
The Miles Dual sports an LCD Display that shows everything you need to know about your board!
Battery Life of Board and Remote
Odometer for the Current Trip and Lifetime of the board
Current Speed and Top Speed of the trip
Drive mode: Forward and Backwards
Speed Setting: Low and High


How to order?


1. Choose Your Design:
(NOTE: we add and discontinue grip designs regularly, see the product page for current options.)

2. Check Out:
Just add the board to your cart and check out! Once we get your order, we'll ship your board out in 1-2 business days. Shipping to the West coast generally takes 2-3 days and around 7 days to the East coast. 
Everything you need to shred is in the box: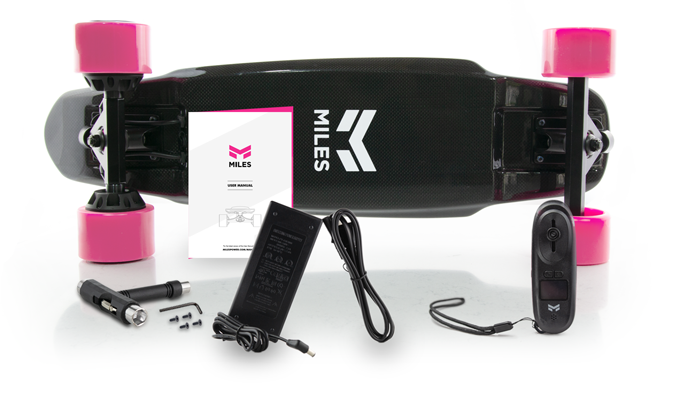 Miles Carbon Fiber Electric Skateboard 
Remote + USB Charging Cable
Charger (US Plug, Works on 110 or 220V with adapter)
Skate Tool
User Manual
2mm Hex Key (For changing grip plates)
Spare Bolts
Reviewers Love It...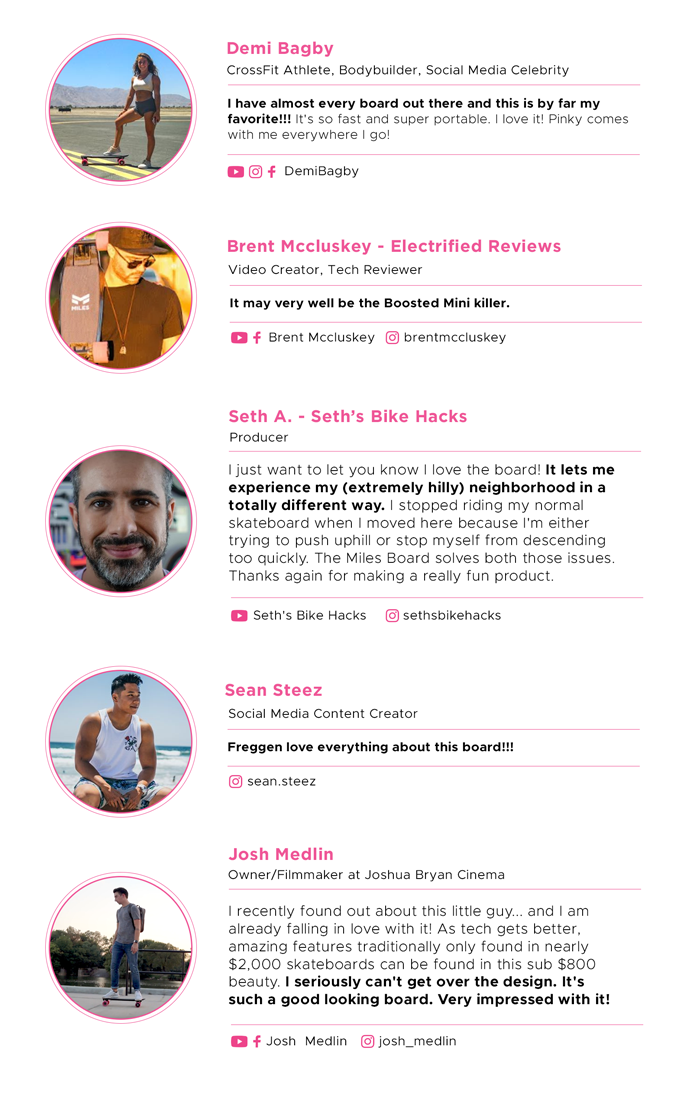 We Go the Extra MILE
You're not a customer. You're a Miles rider, and we've got your back. We've put our souls into training a passionate team to help you get the most out of your board. We may have different backgrounds, skaters, engineers, pro riders, designers, students, athletes… but we're driven by the same goal: to create and share the coolest electric vehicles with the world.

Give us a chance to serve you. We'll deliver a ride so fun that your face will hurt from all the smiling and laughing.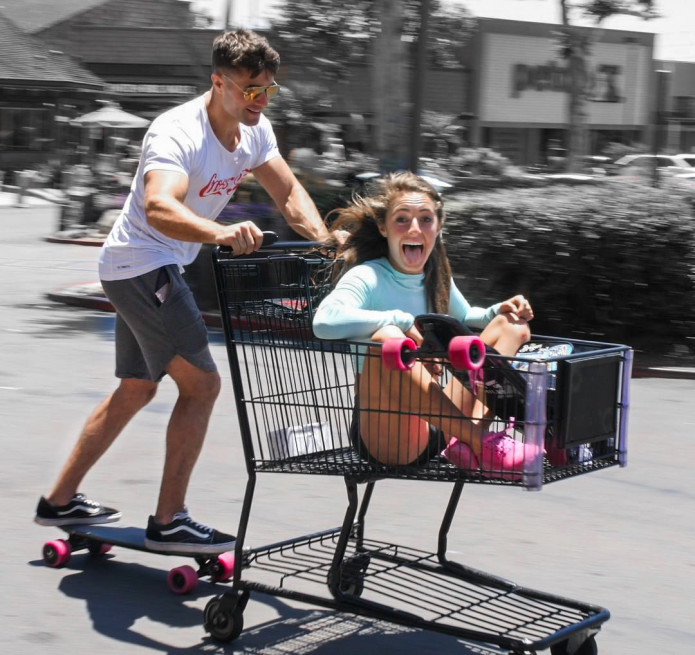 If you have any questions, feel free to contact us with the links below or meet us at the San Diego office for a shred sesh!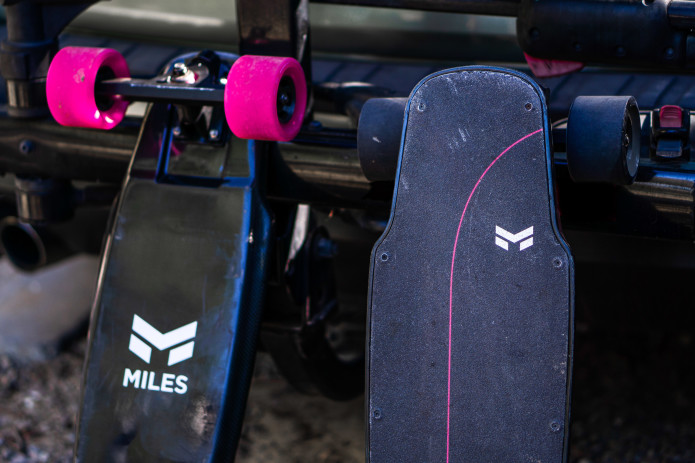 FAQ
Performance
My Miles Arrived. What now?
What range can you get?
From our testing data (and we push the boards hard!), we get the following range: 8-18 Miles. The range depends on a number of factors like rider weight, terrain etc. The more optimal your conditions, the longer you can ride!
Why is the range longer than other boards?
The Dual comes with a high capacity 144WH lithium battery. 
WH = Watt Hours, is a measurement of the total energy in a battery
This is more capacity than popular boards like the Boosted 2 (99WH), Boosted Mini S (99WH), and Inboard (97WH).  
Not only does it have more battery capacity, but with less moving parts (NO BELTS = less friction = more efficient), Miles boards can achieve incredible range.
Beware: Many electric skateboard brands (especially the budget ones) don't even publish their battery capacity. Are they afraid you'll find out the truth?
Can I get another high capacity battery?
Can you change the battery?
Yes, you can swap the battery out in about 5-10 minutes. Just remove the deck lid, turn the battery off, remove the cover, unplug the battery and insert your new battery. This feature is great for those that want a looong ride!
How long does it take to charge?
Typically 1-2 hours, slightly longer if completely dead. 
I'm heavy, can I ride it?
If you weigh less than 270 lbs, that's a big YES. Though we often ride 2 up for a combined weight of ~350lbs, we can't recommend it. Performance will decline with increased weight and the boards are not officially tested past 270lbs. 
I'm tall, can I ride it?
Can you ride it with no battery or no remote?
Yes! The hub motors are precision engineered for the least drag possible. Boards with belt motors, are a drag to push with no power. Miles is a breeze to push and cruises almost as fast as a traditional push longboard.
Is this practical to use for commuting daily to work (5 miles) and shopping, etc?
Yes! 5 miles is a great distance to shred on your Miles. With the Dual you'll probably make it there and back in one charge too. You'll have the most fun if your roads are smooth and 
it will sure beat uber
, traffic, busses etc.
Can I ride it underwater?
The board is water resistant, not waterproof. That means you can ride through light rain and decent sized puddles but you can't go swimming with it.
The motors are completely waterproof and can run completely underwater. The electronics and battery in the deck are not waterproof, so it's not a good idea to submerge the whole board or ride in heavy/torrential rains. The warranty does not cover water damage.
Can I ride it in the Grass? 
YES. You can cruise over cut grass from a dead stop but may want to get a rolling start if it's on the longer side. Grass takes more energy to roll over than asphalt, so it will slow any board down and use more battery than it would on hard surfaces.
Miles is designed for asphalt, concrete, and other hard surfaces and that's where it really shines. Don't let that stop you from getting creative though. Take the board to the golf course and shred it up if you fancy!!
Can I ride it Off-Road? 
It's not the smoothest ride we've ever had, but it definitely powers through to get you from point A to B!! While it is meant to shred the streets, the board can handle grass & gravel surfaces. The Powerful Hub Motors and Extremely Durable Wheels combine to allow you to continue shredding through those rough terrains!!
Can I ride it in the Sand? 
NO! Sand is too fluffy to get through on even the MIles Dual. The board just sinks in and sprays sand everywhere. You'd need big off-road tires to get over sand, and even then, only hard-packed wet sand will work. Miles is not an off-road board, but if you want to get creative you can always fly over hard dirt trails or grass!!
Can it do powerslides?
Yup! Can you?
How much weight can it tow?
We're gonna need more people next time!
How does it handle cold weather? 
While this was just a few minutes at an extremely cold temperature, the board did better than us. It's tough to imagine you'll be able to ride in any weather cold enough to shut the board off!
As with all batteries, the lower the temperature, the lower the discharge rate and capacity of the battery. For example, at 10 below freezing, the battery can discharge at about 40% of its normal capacity. The board will still work at this temperature however, your max power, speed, and range will decrease... The good news is the motors and battery will heat up slightly during use to improve power and range.
There is definitely a temperature at which the battery won't be able to power on the board. Luckily, we've never been cold enough to experience this, but according to data from our battery supplier, we believe it's around -25 degrees Fahrenheit. At that temperature, we recommend finding a loved one and cuddling up by the fire before you go out and shred ice!
Storing the board indoors at room temperature before going out into extreme cold will greatly increase the performance under cold temperatures as the internals will be closer to ideal operating temperature.
What colors do Miles come in?
Black and pink baby! The Miles Board comes with a swappable deck lid so you can purchase extras and swap them to fit your mood in minutes Keep an eye out because we'll be adding more in the future! 
How many watts are the Motors?
We don't disclose the motor wattage because it's become industry standard to lie about motor power. You deserve better than that.
Many companies claim to have 2000W, 3000W motors when they only have 100WH batteries... 
Let's calculate that out: 100WH/3000W = .05 hours of run time. If their claims were true you could only use the board for 2 minutes!
You're welcome to put the board up against top brands and compare performance, you won't be disappointed!
Support
Is there a warranty?
Yes, we've got your back with a 6 month warranty that covers the entire board from defect or malfunction under normal use. If anything on the board should stop working, just hit us up (email help@milesboard.com) and we'll get you rolling again in no time! The warranty does not cover any damage from misuse (including water damage), tampering or unauthorized alterations/repairs. 
What if it's past the warranty or I broke it myself?
No stress, we still have your back with excellent support (from real humans in the US) and will help you purchase the correct 
replacement component(s)
 to get rolling ASAP.
Components
Does it have lights?
No. The Dual remote features a small LED safety light to use in a pinch for visibility. If you ride at night, we do recommend investing in a set of lights though.
You can get yours here
.
If I wear the wheels out can I replace them?
I just crashed and broke my _____ where can I get a replacement?
Payments and Shipping
When does it ship?
US Orders are prepared and shipped same or next business day. 
How long for delivery?
US Orders take around 3 days for the West Coast and 7-8 days for the East coast. International orders ship direct from the factory and arrive approximately 3-4 weeks after shipment. 
Where do you ship?
Currently we only ship to the US. If you need a board to another country, you can email us (help@milesboard.com) with your inquiry and we'll do our best. 

How Much is Shipping?
Free to the US lower 48 states!
Can I test one at your office?
Yes! Come cruise by the showroom in San Diego.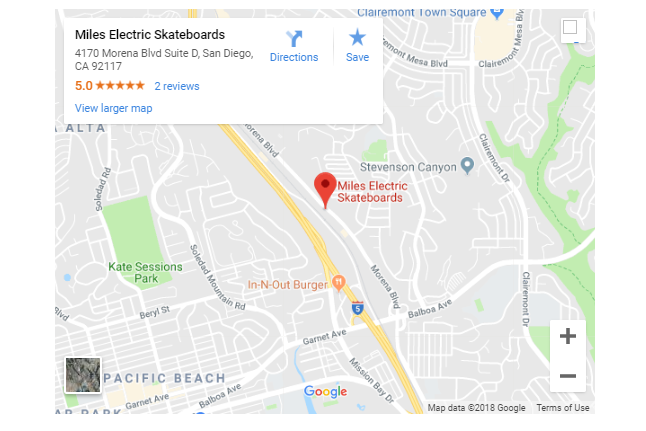 Misc
Do I need to wear a helmet?
We strongly recommend wearing a good helmet. Accidents happen (ask Rob : D ). If you value what's inside your head, a helmet can protect it from damage. Not only that, it's the law in many places. Bottom line: you're responsible for your own decisions. Please don't come crying to us if you crack your skull or get a ticket. You may see us riding without helmets from time to time and that's a value decision we make and own. We trust you'll make the right decision for you each time you ride.
Other protective gear can save you from scrapes if you're new to skating, riding hard or just clumsy. Please be safe out there!
Is it legal to ride on my roads?
Please check the regulations of your jurisdiction to find out where you can or can't ride. Above all, ride safely and responsibly. Your destiny is in your hands. We just help you get there faster.
Shipping is free for electric skateboard orders being delivered to the lower 48 United States.
Shipping rates apply to all other orders, Hawaii and Alaska orders, and International orders.
Ships in 2 - 3 Business Days.
These terms and conditions shall apply to all orders entered into by and between any distributor or any end-user of the Goods, whichever the case may be ("Buyer") and Miles Board ("Seller"). These terms and conditions and any Seller quotation form submitted herewith or separately shall be collectively referred to hereinafter as the "Agreement." Seller shall accept orders, sell Goods, and do business only upon these terms and conditions. Any additional or different terms in Buyer's purchase order or other purchase documentation are deemed material alterations to this Agreement, and Seller hereby gives notice of its objection to them. The term "Goods" means all items sold and/or provided by Seller to Buyer.
Price.
All prices are subject to change. Prices also do not include any federal, state, or local taxes or other governmental charges upon or with respect to the sale, purchase, manufacture, delivery, storage, processing, use, or consumption of any of the Goods provided hereby. Prices are stated in U.S. dollars. PayPal and all major credit cards are accepted.
Specifications.
Seller may, at its option, make changes in the designs, specifications or components of the Goods to improve the safety of such Goods, or if in Seller's judgment, such changes will be beneficial to their operation, use, or image. Miles Board makes every effort to ensure that posted specifications, images, pricing and product availability are as correct and timely as possible. Miles Board reserves the right to make any and all changes deemed necessary in the course of business including but not limited to pricing, product specifications, quantities, and product availability.
Shipping and Delivery.
MILES BOARD can ship anywhere there is a notable shipping service (i.e. UPS Ground, FedEx, DHL, etc.). US Shipments typically ship in 1-3 business days and are delivered within 7-10 business days. Orders outside the US ship within 3-5 business days and may take up to 30 business days for delivery. Miles Board will not provide information about customs and international fees. Buyer is responsible for researching additional charges for customs and international delivery. Buyer is subject to these additional duty charges. Title to and risk of loss for the Goods shall pass to Buyer upon delivery of the Goods by Seller to the common carrier for delivery. All time frames provided by Seller, whether verbally or in writing, are good faith estimates of the expected delivery date for the Goods. Seller shall use commercially reasonable efforts to fill Buyer's orders within the time stated but in no event shall Seller be liable for any damages associated with Seller's inability to meet any such time frames or deadlines, including but not limited to incidental or consequential damages arising therefrom. Should the buyer choose to opt out of the charge for Delivery Confirmation Signature, Miles will not be held responsible for any lost, stolen, or damaged goods upon delivery.  
Force Majeure.
Seller shall not be responsible for any delay in the delivery of, or failure to deliver, Goods due to causes beyond Seller's reasonable control including, without limitation, acts of God, acts of war or terrorism, enemy actions, hostilities, strikes, labor difficulties, embargoes, non-delivery or late delivery of materials, parts and equipment or transportation delays not caused by the fault of Seller, delays caused by civil authorities, governmental regulations or orders, fire, lightening, natural disasters or any other cause beyond Seller's reasonable control. In the event of any such delay, performance will be postponed by such length of time as may be reasonably necessary to compensate for the delay.
Assembly.
If Buyer purchases any Goods that require assembly, Buyer shall, at its expense, make all arrangements and connections necessary to install and operate the Goods properly. Buyer shall assemble the Goods in accordance with any Seller instructions or recommendations and shall indemnify Seller against any and all damages, demands, suits, causes of action, claims and expenses (including actual attorneys' fees and costs) arising directly or indirectly out of Buyer's failure to properly install the Goods.
Use of Goods.
Buyer is responsible for using and maintaining the Goods properly and safely in accordance with any required laws and/or as set forth in manuals and instruction sheets furnished by Seller.
Warranty.
Miles Board warrants that all new Miles products are warranted to the Buyer against manufacturing defects in materials and/or workmanship for a period of 6 months from the date of delivery. The warranty period is calculated from the point of delivery. The original receipt of purchase is required to establish proof of purchase and must be provided to Miles Board for all warranty claims. Miles Board will require the customer to complete a MANDATORY standard procedure for warranty claims that will involve media such as photos and videos to help Miles Board after sales staff establish the fault with the product.
Only the individual components themselves are covered by the warranty. The removal, assembly, and tuning requirements of the component is borne by the customer making the claim. The costs/inconvenience caused by the loss of use of the product, is not covered whilst the warranty procedure takes place. The warranty for replacement components will be based on the date of delivery. Under no circumstance will a replacement component have a warranty date different than the original date of delivery. If a replacement is necessary due to a defect in materials and/or workmanship, then upon return to Miles, the component will be replaced during the warranty period.
Miles will have no obligation under this limited warranty in the event the product is damaged or destroyed as a result of any of the following events: component use on a non Miles product, damage or destruction by abuse; collision; theft; improper maintenance or mishandling of the product; natural forces such as wind, lightning, hail, etc.; any willful or negligent act; penetration, or opening of the product casings in any manner. Replacement will be honored only by Miles
This is Miles exclusive warranty. No party is granted express or implied authority to change or annul this warranty in any manner. Implied warranty including that of merchant-ability and fitness for a particular purpose are expressly limited in duration to the duration of this warranty. Miles disclaims any liability for special, incidental or consequential damages.
This warranty is not meant to suggest or imply that the products cannot be broken or will last forever. It does mean that the product is covered subject to the terms of the warranty. This warranty applies only to the original Buyer of the product and is not transferable to subsequent owners or any other party. This warranty is void if the product is subjected to abuse, neglect, improper repair, improper maintenance, alteration, modification, an accident or other abnormal, excessive, or improper use, at the sole discretion of Miles.
Warranty Exclusions.
This warranty does not cover:
• Water damage 
• Normal wear and tear
• Damage or failure from abuse, neglect, misuse, or accident
• Damage from stunt riding, ramp jumping, acrobatics, competitive events or any activity that is not consistent with the intended use of the product
• Damages resulting from improper charging of the battery pack or use of any charger not supplied by Miles                                             
• The Battery, like all lithium-ion batteries, will experience gradual energy or power loss with time and use. Loss of Battery energy or power over time or due to or resulting from Battery usage, is not covered under Warranty. 
• Installation of any parts, accessories, or electrical component(s) not originally intended for or compatible with the product as sold, or any modification of the frame or any component(s) originally supplied; tires, lights, motors, battery packs, displays, or vehicle controllers that have been opened for any purpose whatsoever, other than by Miles.
• All warranties are void if the product is used for any purpose other than the reasonable intended use of the product. Additionally, this warranty does not cover damage associated with commercial use.
• Aftermarket components or modifications
All implied warranties, including the warranties of merchantability and fitness for a particular purpose, are limited in duration to that of the express warranties stated above.
Warranty Procedure.
Proof of purchase must be provided. To qualify for warranty services, a Warranty Product Return Authorization Number ("WPRAN") must be obtained by the original purchaser from Miles. The original Purchaser must contact a Miles representative to discuss the problem with the product and to obtain a WPRAN. Upon issuance of a WPRAN, the product component(s) must be returned to Miles. The original Purchaser is responsible for the return of the product, undamaged in transit, to Miles for warranty work and for the costs associated with shipping the component(s) when returning them. If Miles determines a warranty claim is valid and conforms with this warranty, Miles will replace component(s). 
Limited Remedy.
Unless otherwise provided, the sole remedy under the above warranty, or any implied warranty, is limited to the replacement of defective parts at the sole discretion of Miles Board. In no event shall Miles Board be responsible for direct, incidental or consequential damages, including, without limitation, damages for personal injury, property damage, or economic losses, whether based on contract, warranty, negligence, product liability, or any other theory.
Modification. 
Buyer may request to modify an order before it has been shipped. All modifications are subject to availability. There is no guarantee these modifications can be made unless approved by Miles Board. To file a modification claim, email help@milesboard.com with your original order confirmation.
Returns/Refunds.
Our extensive quality control means that our products are thoroughly tested and ultra-reliable by industry standards. All products are warranted to work as described on arrival and for the warranty period unless they are open box goods*. If there is a warranty claim, it will be assessed by Miles Board and new parts will be delivered upon claim's approval. Miles Board will accept the return of warranted components. If there is a major fault with the product, contact Miles Board immediately. Miles Board will not accept returns or issue refunds for change of mind. When applicable, Miles reserves the right to charge restocking fees.
Questions?
Please contact us at help@milesboard.com
MILES Board LLC
4170 Morena Blvd. Ste D
San Diego, CA 92117
*open box items cannot be returned and do not have a warranty.